Hi my name is Wendy Antenucci and I am thrilled to be here with you at Frosted Designs this month! I am married to my wonderful hubby of 14 years and we have 6 kids, ranging from 11-5 months. I started scrapbooking shortly after my first child was born in 2002. I am a SAHM and homeschooler so I tend to scrap during my kids rest time it helps clear my mind and get me through the rest of the day. My style is simple, but I love to layer and look for the perfect way to embellish my pages that connect with the memory I am telling. I design for Pebbles, Bella Blvd, and Simple Stories. I have been published in Creating Keepsakes, Cards, Create, Scrapbook Trends, Scrapbook & Cards Today, Scrap365, and various online publications. You can find my blog here or join me on my scrappy FB page.
I was so excited to receive the kit for this month as I had been eyeing up the Teresa Collins papers from the You are My Happy collection for awhile now. Even though the papers might look girly I created 2 pages about my boys and then two pages about us!
The first page I am sharing with you today began with the Amy Tangerine piece - I loved the cutout letters, but the paper was so plain and I sure didn't want to cover the letters up, so... I grabbed my double sided tape and the glitter that was included in the kit and added some pizzaz to my background that wouldn't detract from the picture of our newest.
I used a Studio Calico chevron mask to get the placement of my lines.
This stuff really covers very nicely and it doesn't come off either!
Just a little bit of pizzazz without adding too much!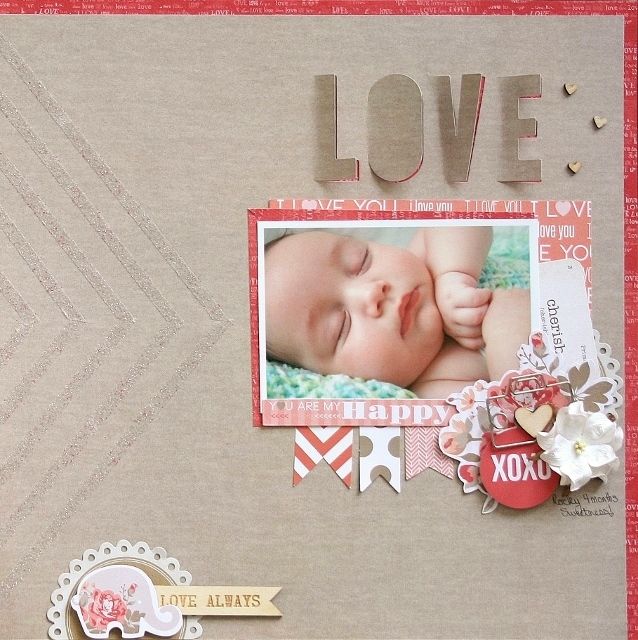 Here are some close-ups of the other details in my layout...
I will see you all next week for a few more layouts created with this lovely kit!
This kit is available for purchase in the Frosted Designs Store!
7 Comments »